Hello Everyone!
For those of you who missed my introduction post, I am Emalyn Deak a second year English and Spanish major at the University of Florida and you are about to join me on my study abroad journey to Granada, Spain. In these posts, I desire to present honest emotions about studying abroad and all that it entails.  I have read my fair share of blog posts and have found that too many words and not enough pictures loses the interest of the reader. On the contrary, too many pictures and not enough explanation leaves the reader confused. I aspire to have a happy medium. Now, let us begin:
Studying Abroad: The Phases of Preparation
During the break I had between Spring and Summer semester, I felt a wide range of emotions that came in waves of intensity and importance. Below, I have done my best to express the different phases you may face if presented the opportunity to study abroad.
The Utter Excitement Phase
This phase is super fun because you cannot help but feel genuinely excited. I found myself get giddy and sometimes did a little happy dance at the mention of my trip. Luckily for me, this phase never truly ended but was just combined with the other phases I will mention below.
The "This Is No Longer A Dream, But a Reality" Phase
Courtesy of Google Images
This phase really hit me at the weirdest of times. I was sitting at home by myself watching Disney's The Cheetah Girls 2 when I realized that I will actually have the opportunity to visit where they shot the movie. (I understand that this situation is extremely cheesy and you may question my maturity, but that is how it happened). Anyways, I had glimmers of this reality at the end of my Spring semester, but still was convinced that it was all just a dream. I honestly feel like it will not feel real until I get to Spain.
The Research Phase
If you are anything like me, I am sure your laptop will look something like this while preparing for studying abroad. For me, doing research calms my excited nerves because I feel (almost) 100% knowledgeable about what I am getting myself into.  Every night I devoted time to do research about Spain, Granada, studying abroad, traveling, etc. simply to ease my mind about this new and exciting experience. Some of you may think it was overkill, but I will update you at the end of the summer and see who is correct.
The Anxious Phase
This phase was one of the few that came only every once in a while. It was the worst  of the phases but luckily only came when I was alone just letting my mind wander. My brain has this horrible habit of spiraling down until every last detail and possible scenarios are played out. I think it is in human nature to get anxious or nervous about the unexpected simply because we do not know what to expect. While that may seem redundant and self explanatory, it is accurate because we constantly feel like we need to be in control. To get through this phase, I had to consciously stop my mind from spiraling through talking about my feelings or journaling. Writing down my feelings gave me control and helped me process why I may be feeling nervous about certain aspects of my trip. If you find yourself in this phase, I urge you do the same.
The Never Ending Packing Phase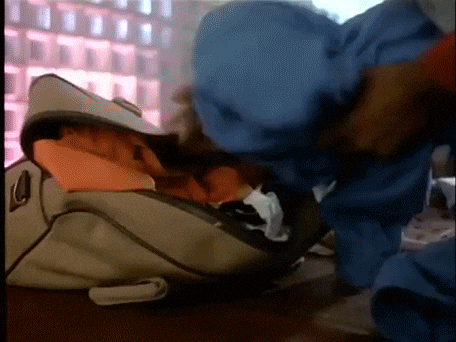 Courtesy of Redit.com
To begin, it is incredibly difficult to find a happy medium between packing too much and not enough.  As soon as I thought I had everything set aside and figured out, my brain kept kindly bombarding me with little reminders of random things I had forgotten. I kid you not, I would wake up in the middle of the night, sit straight up ,and say things like "I forgot to pack my rain coat" or "Oh my word, how could I have forgotten deodorant."
*Pro tip: Keep a paper and pen handy, it will help keep you sane.*
Finally, I managed to fit everything nicely after confiding in Pinterest for "Packing Tips". This phase can be stressful, but I promise it will be worthwhile.
The "I Have Butterflies in My Stomach" Phase
This phase is fun because it is the perfect combination between being excited and nervous. For me, it was a reminder of how cool of an experience it will be to study abroad. I feel like this phase was proof that I was going completely out of my comfort zone. My friends, I hope you have this feeling at least one time in your life. It is a reminder that you are about to do something awesome and life changing.
The "I Am Ready for this Adventure" Phase
I am currently writing this phase from the airport terminal and I am feeling just about every emotion imaginable. The good news, my excitement is overpowering my nerves and I am so incredibly excited for this adventure. Take a deep breath and get ready for an adventure of a lifetime!
Overall, I cannot express how incredibly blessed I am to have this opportunity. I know that not everyone is able to study abroad and I am very blessed to have this opportunity. Thank you all for choosing to follow me on this journey. Next time, I will be writing you from Granada!
-Emalyn